Wake up! You can have French toast for breakfast!
How long has it been since you or your family members with celiac disease or wheat allergies woke up to a delicious French toast breakfast? Make some plans to heat up the griddle because there's no reason to hold back ever again. Discover options for starting your day with delicious meals created with gluten-free bread that will leave your tummy happy and your taste buds singing for more.
GLUTEN-FREE LUNCHES NEVER LOOKED SO GOOD.
Bring on the sandwiches! Let inspiration strike and if ever you run short, we will be here with recipes and bread options to keep the hunger pangs and the bellyaches away.
explore easy lunch ideas
Exceptional baked goods and treats from Éban's Bakehouse are now flying off the shelves in locations throughout the Midwest.
Inspired Gluten-Free Recipes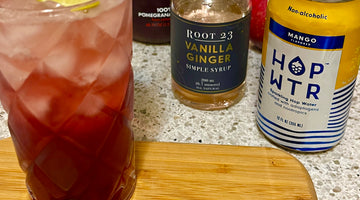 Pomegranate Spritz
Eric discovered Hop Wtr this fall and we have been having so much fun creating mocktails using the ...
Turkey Dinner Pie
Don't have a large group to cook for, but would still like the elements of a traditional Thanksgivin...
Gluten-free CAN taste good!
"I have been waiting 25 years for a cookie to come along and taste like what Grandma baked! Well, you did it!"
Joni H.
Mmm... what's for dinner?
How about homemade meatloaf? Or a nice chicken Caesar salad tossed with crunchy, garlicky croutons? Or a delicious bowl of pumpkin bisque soup with a side of savory crostini? Or any baked fish coated with perfectly seasoned fine bread crumbs made from the best Flaxseed Oat bread on the planet? Éban's ships all of this gluten-free goodness right to your door so you can make all these delicious meals and more. 
gluten-free bread delivered to your door
Did someone say dessert?
Absolutely, and this Roasted Pear and Pecan Crumble is gluten-free! Our cookies are great by themselves, but they're even better when used in your favorite dessert recipes.
View our delicious dessert recipes
why does Éban's taste so good?
We make no compromises when it comes to selecting the highest quality ingredients. Our flours are milled in a dedicated gluten-free mill, we use only certified gluten-free oats and oat flour, we source the finest organic, non-GMO seeds, fruits, and nuts, we use local grass-fed butter, and our eggs come from free-roaming chickens. It's that simple. Great ingredients make great baked goods.
read our story
Gluten-Free Bakery Online
Welcome to Eban's Bakehouse! We are a gluten-free bakery online that provides delicious, organic, and non-GMO baked goods. Would you like French toast for breakfast, sandwiches for lunch, or croutons on your salads? How about cookies for dessert? Are you ready to feel empowered and inspired to cut out gluten with no regrets about the taste or texture? You will be delighted with all our baked goods options, and your tummy and tastebuds will thank you for visiting our gluten-free bakery online.